Bookings.
1. 2020 bookings – The Fishslab Gallery is fully booked for the whole of 2020. The Gallery is running a waiting list for 2020; if you would like to be added to the waiting list please email amanda@catfishgin.co.uk
Fishslab bookings are taken a year in advance and the booking for next year starts at 9am sharp on 1 August of the current year (so, for example, 2020 bookings will be taken from 9am on 1 August 2019). Bookings are only taken by phone and the number to call is 07947 216787. The gallery is very popular and the phone line is very busy from 9am onwards! Please be prepared and keep trying. Please do not text or email for bookings, we can only accept bookings by phone.
2. 2020 bookings – the dates and charges for hiring the gallery next year are below.
3. Commission – the Fishslab Gallery is a not-for profit community gallery and does not take any commission from the artists who exhibit.
All bookings run from Tuesday to Tuesday.
Low season £175 – 7th January to 31st March, 3rd November to 24th November.
Mid season £210 – 31st March to 7th April, 14th April to 28th April, 5th May to 19th May, 26th May to 30th June, 1st September to 6th October, 24th November to 8th December.
High season £235 – 16th to 23rd April (Easter), 28th April to 5th May (Bank Holiday), 19th to 26th May (Bank Holiday), 30th June to 1st September (includes August Bank Holiday week), 13th October to 3rd November, 8th to 22nd December.
4. Payment – The full amount of your hire period must be paid within 30 days of booking to secure your place. You must also return the signed Hirer's agreement with your payment.
5. Cancellation – if you cancel your booking and we are able to re-let your place you will receive a refund. However if we are unable to re-let your place you will not receive a refund. We will run a waiting list and will work with anyone who cancels to try and find an alternative hirer.
Remember the email address to contact is amanda@catfishgin.co.uk and the telephone number is       07947 216787.
7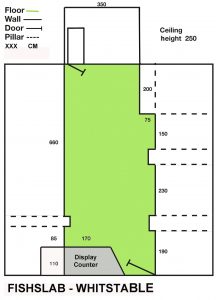 6. Data consent – when you book the Fishslab Gallery we will hold the data you have provided for us in order to manage and promote your booking. Your data is held securely and is only ever shared with members of the committee – never with third parties. Promoting your booking means that we will publicise your name and exhibition in the Fishslab Gallery window on our upcoming exhibitions list, display photos of your work and your name on our Facebook page and this website. We will always contact you before carrying out any promotion and you will always have the option to refuse the opportunity to promote your exhibition. If at any time you are unhappy for us to hold your data (name, contact details etc.) and would like to have this removed from our records then please email fishslabgallery@gmail.com and we will do this for you. If you want to enquire about how your data is being held and used at any time then please contact fishslabgallery@gmail.com